DEPARTMENT OF  COSTUME DESIGN AND FASHION
INTRODUCTION
The department has been established in the academic year 2018-2019 to inculcate ethical values, nurture creativity and to develop design professionals.To train the students towards college culture and to make them aware of the various technical terms of the department. In order to carry out the progress of the department we have an association called "Fashionista". Ms.J Sakthidevi, was the Head of the Department in 2018 onwards with 1 staff members in the department.
PROFILE OF THE DEPARTMENT
Welcome to the Department of Costume Design & Fashion
The department was established in the year 2018 under Periyar University & offers a three year degree programme. The curriculum equips the students with the knowledge required for pursuing a wide range of careers in management, designing, production & to become an entrepreneur. The courses are blended with practical components to explore, experience and gains hands-on skill. Students visit the industries to keep themselves abreast of the industrial practices. They are also encouraged to learn arts & crafts to increase their creativity.
There are laboratories for pattern making, sewing, embroidery, CAD, dyeing, printing & textile testing & also offers value added courses. The students are given opportunities to participate in extracurricular & co-curricular activities like group discussion, quizzes, cultural meets, conferences & seminars which will enhance their communication skill, creativity, leadership qualities & team work.
Every year the department proudly presents costume show designed and developed by students on their own. The department has dedicated faculty who focus on the continuous development of students to achieve their ambition. Through various labs the department offers certificate course for the students of various departments.
VISION
Impart creativity, innovation, and a desire to challenge the status quo.
Possessing entrepreneurship and problem solving skills.
MISSION
Making powerful learners through training and skills development.
Allowing them to become economically independent and transfer their skills to others.
FACULTY
Ms. J SAKTHIDEVI, M.Sc., M.Phil., M.B.A.,
HEAD OF THE DEPARTMENT
THEORY PAPER DETAILS
English – I
Tamil – I
Allied – I Sewing Technology
Value Education – Yoga
English – II
Tamil – II
Major I – Fibre to Yarn
Environmental Studies
Fabric Manufacturing (FM)
Care & Maintenance of Textiles
Allied II-Fashion Designing
Marketing
Historic Costumes & Textiles
Wet Processing
Allied III – Dynamics of Fashion
Human Resource Management
Computer in Garment Industry
Textile Finishing
Dyeing & Printing
Garment Quality & Cost Control
Organization of Garment Unit
Boutique Management
Fashion Merchandising
LABORATORY DETAILS
The CDF department is equipped with latest equipments & machineries. This laboratory facility enables the students to practice on the machinery to gain practical knowledge and facilitate project and new developments.
The students learn to do paper or block patterns for kids, men & women which are the basic patterns.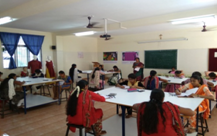 In this lab students will stitch garments for infants, kids, men & women with their taste and measurements. Students will gain knowledge in Seams, seam Finishes, hems, fullness and various garment parts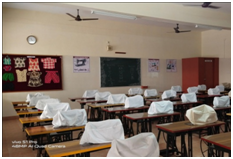 The lab enables the students with usage of various dress forms & also provides comprehensive knowledge and variation in necklines, collars, sleeves, fullness, evening gowns, shirts.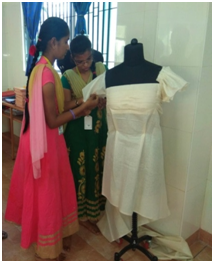 The students study about physical testing and identifying the fibers & also understand the principles of various textile testing machines.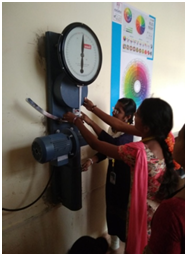 This lab enables the students to learn the basic techniques of sketching and drawing fashion figures & they will understand basic concept and various silhouette sketching.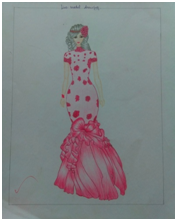 Fabric Design Analysis Lab
This allows the students to understand the elements of woven design with draft and peg plan for different types of weaves & also the technical details of dobby, jacquard & knitted fabric.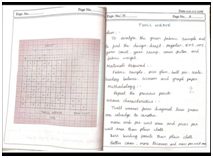 The students are made aware of prang and munsell color chart & illustrate garment design for elements of design, principles of design, color harmony & figure irregularities`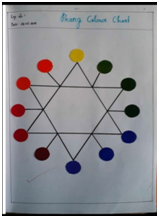 The students gain practical knowledge in pretreatments of fabric before dyeing & about dyeing mechanism.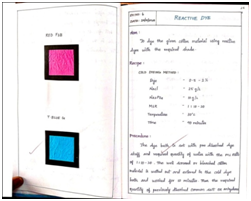 Surface Embellishment Lab
This practical provide comprehensive knowledge about various hand and machine embroidery stitches & to foster understanding of traditional Indian embroideries, motifs and color combinations used.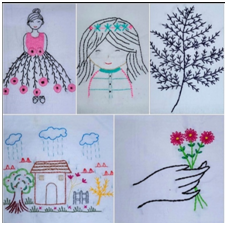 In this practical student will learn about various dyeing (batik, tie & dye) & also printing (block, discharge) techniques.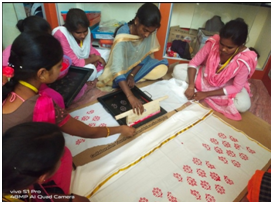 Computer Aided Designing (CAD) Lab
The students are made to use the softwares like adobe photoshop, coreldraw & textile CAD which allows them to draw images and colour it on the screen.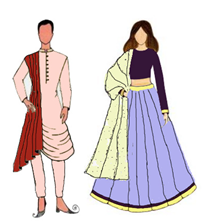 Fashion Accessories & Ornaments Lab
Thie practicals allow the students to learn about making hand bags, purses, bows, hats, belts, foot wear, jewelleries etc.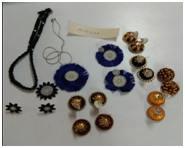 The students are trained by beautician from beauty parlour & training is given to them in this regard.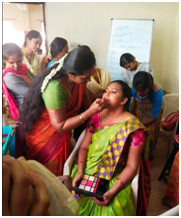 This final year project helps the students to design garments based on themes like seasons, colours & trends.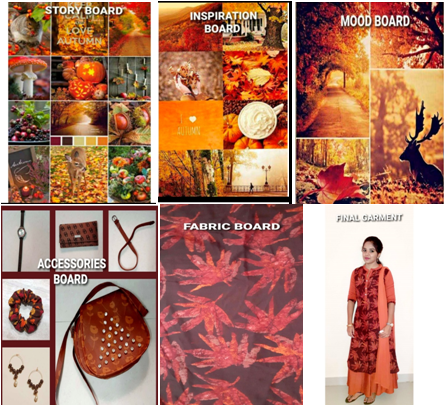 LIBRARY
The Department of CDF has separate racks for textile & apparel books and also department library is also there. The library operates from 8.30 am to 4.30 pm for the benefit of students and staff members which contains books, journals and magazines and a collection of CD's in the area of textiles.
ASSOCIATION ACTIVITIES
2018
– Conducted certificate course on "Training Programme on Dress Making & Ornaments"
– Organized add-on course on "Accessories making & Jewellery Designing"
2019
– Conducted Intra-departmental programme on "The Fashion Contest 2K19"
– Organized add-on course on "Wealth out of Waste"
2020
– Organized webinar on "Career Guidance for Textile Students"
– Conducted certificate course on "Beauty care & wellness"
– Conducted certificate course on "Garment Decoration & Embellishment"
 DEPARTMENT SEMINARS
– Conducted National Conference on "The Use of Fabric in Stent Grafts for Heart Surgeries"
EXTENSION ACTIVITIES
The department organized Industrial Visit to Tamil Nadu Sericulture Training Institute (TNSTI), Hosur
STUDENTS' ACHIEVEMENTS
2018-2019
12/23/2018
Christmas day Celebration (Dance Competition)
Abinaya.M
Gokulalakshmi.N
Mubena Preethi.S
Kowsalya.S
Monikaa.K
Deepthi.S
1/11/2019
Dance Festival
Sathya.S
Deepa.K
Abinaya.M
Gokulalakshmi.N
Mubena Preethi.S
Kowsalya.S
Monikaa.K
Deepthi.S
| | | |
| --- | --- | --- |
| 12/21/2019 | Intradepartmental Program (Fashion Sketching) | Pavithra.P |
| | | Lavanya.A |
| | | Meghala.V |
| | Fashion-on-Hand | Priyanka.M |
| | | Sheela.N |
| | | Sandhiya.S |
| | | Anandhi.R |
| | | Suchitra.R |
| | | Maseeha.S |
| | | Mehartaj.A |
| | | Nihakowsar.S.W. |
| | | Haniffa.U |
| | | Vanitha.G |
| | | Kaviya.P |
| | | Sneha.S |
| | | Poovizhi.C |
| | | Nafeeza.A |
| | | Nandhini.G |
| | | Kaviya.S |
| | | Sathya.T |
| | | Nisha.K |
| | Craft Work | Uma Maheswari.M |
| | | Priya.D |
| | | Malathi.P |
| | Bridal Make-Up | Evangline.I |
| | | Kokila.V |
| | | Sumithra.K |
| | | Vinitha.M |
| | | Nadhiya.R |
| | | Sneha.B |
| | Nail Art | Deva Dharani.U |
| | | Sindhu.N |
| | | Vaideshwari.S |
| | | Nadhiya.K |
| 8/6/2019 | Facon Intercollegiate Meet – Muthayammal College, Rasipuram (Dress a doll) | Jayalakshmi.M (I-CDF) won 2nd prize |
| | Photography | Franka Joseph.X |
| | Mehandi | Rosini.A |
| | Hair style | Saranya.C |
| | Mehandi | Sindhu.N |
| | Hair style | Swetha.K |
| | Photography | Shalini.S |
| | Hair style | Atchaya.S |
| | Mehandi | Mubeena preethi.S |
| | Mehandi | Hari priya |
| | Mehandi | Gokula lakshmi.N |
| 12/21/2019 | Christmas Day Celebration (Dance Competition ) | Deepthi.S (II-CDF) |
| | |  Monikaa.K (II-CDF) |
| | | Kowsalya.S (II-CDF) |
| | | Gokulalakshmi.N (II-CDF) |
| | | Shalini.S (I-CDF) |
| | | Deepa.S (I-CDF) |
| | | Sindhu.N (I-CDF) |
| | | Saranya.C (I-CDF) |
| | Skid | Banumathi.M (II-CDF) |
| | | Mubena Preethi.S (II-CDF) |
| | | Yasmin.B (I-CDF) |
| | | Jebitha.T (I-CDF) |
| | | Nandhini.R (I-CDF) |
| | | Sathya.M (I-CDF) |
| | Carols | Kowsalya.S (II-CDF) |
| | | Jaishree.M (II- CDF) |
| | | Indhumathi.M (II-CDF) |
| | | Naseem Taj.I (II- CDF) |
| | | Shamsunisha.A (II-CDF |
| 1/13/2020 | Dance Festival  (Couple Dance) | Deepthi.S (II-CDF) |
| | | Kowsalya.S (II-CDF) |
| | Group Dance |  Monikaa.K (II-CDF) |
| | | Sathya.S (II-CDF) |
| | | Sindhu.N (I-CDF) |
| | | Saranya.C (I-CDF) |
| | | Yasmin.B (I-CDF) |
| | | Deepa.S (I-CDF) |
2020-2021
2/19/2021
Literary Ornate (Fashion Parade)
Aarthi.K
Monika Srinivasan
Sangavi.Y
Swetha.M.S
FUTURISTIC VISION
To familiarize students with Textile CAD
To make students aware of E – business
To train students to open their own boutique stores
To encourage them to become an entrepreneur