RED RIBBON CLUB
VISION
The vision of RRC is about making "Responsible Choices for Healthy Life"
Red Ribbon Club (RRC) is a movement started by the Government of India in colleges through which, students will spread awareness over HIV / AIDS. It envisages instilling charity mind among all the students, to extend their able help towards developing healthy life styles, donating blood to all the needy, by promotion of Regular voluntary blood donation.
 The objectives of RRC
The RRC aims at harnessing the potential of youth by equipping them with correct information on HIV/AIDS prevention, care and support. It also aims to build their capacities as peer educators, change agents by developing their skills on leadership, negotiation, and team building to spread right messages on health seeking behavior and healthy living. They will also be motivated to create enabling environment and increasing voluntary blood donations among youth.
Year
Convener
Date
Programme/Events
2020-21
Ms. A Indhumathi
26.02.2021
Cancer Awareness
15.04,2021
Quiz Compitition on AIDS
16.04 2021
Poster Making on world AIDS
17.04.2021
Essay Writing Competition on Awareness about AIDS
22.04.2021
Child and Woman Protection
2019-20
Ms. K Usha
25.08.19
Orientation Programme "Celebrating Life"
21.01.20
Awareness Programme "National Youth Day"
07.02.20
Exposure Visit – Government Hospital
2018-19
Ms. K. Usha
13.07.18
Plastic Free Awareness Programme
16.08.18
Orientation Programme "Celebrating Life" And Blood Grouping Camp
18.09.18
Free Eye check up Camp
08.10.18
Exposure Visit – Government Hospital
2017-18
Ms. K. Usha
26.07.17
Orientation Programme "Celebrating Life"
12.08.17
International Youth day Celebration -Oath taking Ceremony
30.08.17
Interactive Session on "Prevention of HIV/AIDS"
20.09.17
Awareness programme on "Blood Donation"
05.02.18
Essay writing competition on "Awareness on Blood Donation"
21.03.18
"Exposure Visit for HIV/AIDS Patient"
2016-17
Ms. K. Usha
25.07.16
Orientation Programme "Celebrating Life"
18.08.16
"Blood Donation & Tuberculosis Awareness Programme"
20.08.16
"Dental Care" – Free Checkup
07.01.17
Essay writing competition on "Awareness on Blood Donation"
04.03.17
"Exposure Visit for HIV/AIDS Patient"
2015-16
Ms. K. Usha
16.07.2015
Celebrating Life
10.08.2015
Craft Work using Waste Materials
08.12.2015
HIV Awareness – Rally
08.02.2016
HIV Patient Visit
17.02.2016
Interactive Training Session – HIV Positive Speaker
2014-15
Ms. K. Usha
25.08.2014
Tree Plantation
30.09.2014
Celebrating Life
31.10.2014
Clean India
01.12.2014
AIDS Awareness
25.01.2015
Voter's  day Awareness – Rally
2013-14
Ms. K. Usha
28.10.2013
One Day Training Programme on Disability Management
06.01.2014
Entrepreneur Development Programmme
25.01.2014
Voters Awareness – Rally
22.03.2014
Voters Awareness – Rally
27.01.2014
HIV/AIDS Awareness Programme
2012-13
Mr. A. Bairesan
18.08.2012
Peer Educators Training Programme
02.11.2012
C- Life training programme
20.01.2013
Interactive Programme
25.02.2013
Blood donation Camp and Motivation
23.03.2013
HIV/AIDS Awareness Competition
20.04.2013
Peer Educators Training Programme
2011-12
Mr. A. Bairesan
03.09.2011
RRC-Interactive Programme
05.09.2011
C- Life training programme
18.01.2012
Blood Donation Camp
19.01.2011
Peer Educators Training Programme
12.03.2012
Government Hospital visit-ICTC, STDC+ART Center
2010-11
Mr. A. Bairesan
19.06.2010
Medical Camp and Blood donation
30.07.2010
Competition on Donation
18.08.2010
Talk on Red Cross and its contributions to humanity
23.02.2011
Blood donating camp
National Youth Day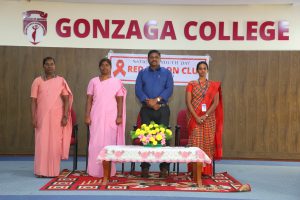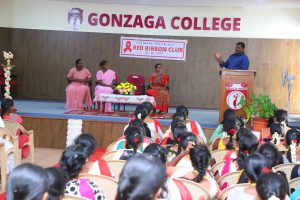 Awareness Programme
Celebrating Life
Interactive session