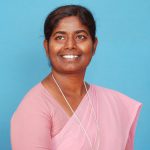 Dear all,
Greetings in the name of our patron St. Aloysius Gonzaga
---
The College was started  in 2009 , affiliated to Periyar University, Salem , by the congregation of Franciscan sisters of St. Aloysius Gonzaga, Puduchery ,a catholic entity,  in a sprawling land area of 23.30. acres, as a religious minority institution, with the primary objective of providing higher education committed to the cause of higher education, providing quality education to all the sections of the society .True to its Motto, Educate to Empower, the institution works with commitment to create a just and humane society, upholding national integration and religious harmony, with special emphasis on the enrichment of the poor, marginalized and downtrodden women in society ,especially rural women at an affordable cost. As recognition of its endeavors and achievements in the academic, cultural and social realms, NAAC had accredited the College with B Grade in 2016, with a CGPA of 2.55 on a four point scale.
While we take pride in our traditions, we are never complacent. We keep on searching, renewing and expanding, attempting to be ever relevant to the changing situations of time. I would also like to thank the generations of parents who entrusted us with the care and education of their children. It is their faith and belief in that has helped us come this far. I believe that education has the most critical role to play in the progress of a nation. We realize that our students represent the future of our society and we take our responsibility seriously. I assure the young and dynamic future generations, who wish to join GONZAGA College, that your stay with this institution will be fully equipped with state-of art theoretical knowledge, innovative and creative practical skills and entrepreneurial attitudes to achieve a brilliant success in life.
We offer various courses that help students successfully receive original credit. In doing so, our staff members constantly improve academic and behavioral strategies to help students succeed. We continue to create a culture that gets students connected to studies, create College-peer climate, work alongside caring-adults, and believe in their own success stories.
As our college always  stands  for all-round education, character building, and service to God and country, true to its Motto and Vision, to uplift rural women and make them to compete with  everybody.
With Warm Wishes and Prayers
Rev. Dr. E Glitta Sumangali, FSAG
Principal